RELIABLE, DURABLE, ACCURATE
TAG HEUER AQUARACER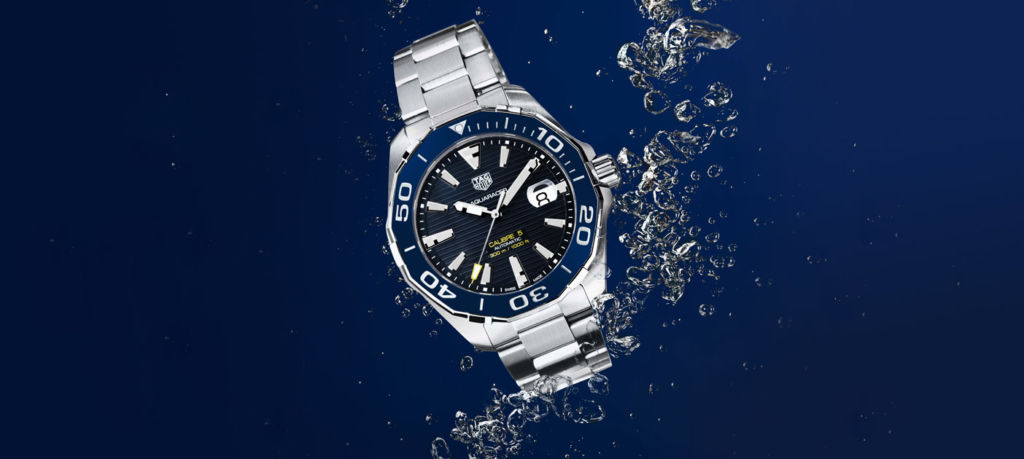 Aquaracer. The quintessential sports watch inspired by the lure of the deep. Ever the pioneer, in 1892, Edouard Heuer filed the first patent for a watertight case in the history of watchmaking. It was an immediate success. Since that time, the Aquaracer (the collection created by TAG Heuer in 2003) has continued to evolve, developing into the perfect timepiece for all kinds of extreme conditions, not just diving and other seafaring activities.
The collection display reliable, durable and accurate timepieces conceived for sea diving, exploration or adventure. Many qualities for an essential ally to go along your activities, especially aquatic.
Discover TAG Heuer Aquaracer timepieces through their distinctive features and all the possibilities they offer.
RELIABILITY
The TAG Heuer Aquaracer are made for sea lovers such as deep divers, often exposed to high pressures.
Each timepiece pass through 160 water-resistance tests, specially developed by TAG Heuer: salty exposures, pressures, humidity, intense heat. Once assessed, the watches run with accuracy within waves for surfing, under the water pressure of diving or against the extremes environments of sailing.
With its unidirectional turning bezel, the watch provides a sporty essential functionality. The handy design of the rotating piece assures a strong grip, even with diving gloves, allowing to measure with accuracy intervals such as oxygen reserves.
Each timepiece displays clocks with green and blue luminescent or white markers to be legible even in the darkness of seabed.
DURABILITY
Facing sun or under water, the TAG Heuer Aquaracer watches offer a perfect legibility thanks to its sapphire crystal with an antireflective treatment, extremely resistant to scratches. Ceramic, titanium or steel, the case of the TAG Heuer Aquaracer's timepieces provides different grades of robustness, according to needs, certified by many quality tests – water resistance and shocks.
Light, strong and comfortable, the strap – either textile, ceramic or polished steel – allows to live intensely with the watch, trusting its folding clasp system.
ACCURACY
The Calibre 5 running within the TAG Heuer Aquaracer guarantees a high mechanical efficiency. Its 28.800 vibrations per hour are powered by the wrist motion and provide a power reserve of 38 hours.
variations
RELATED WATCHES