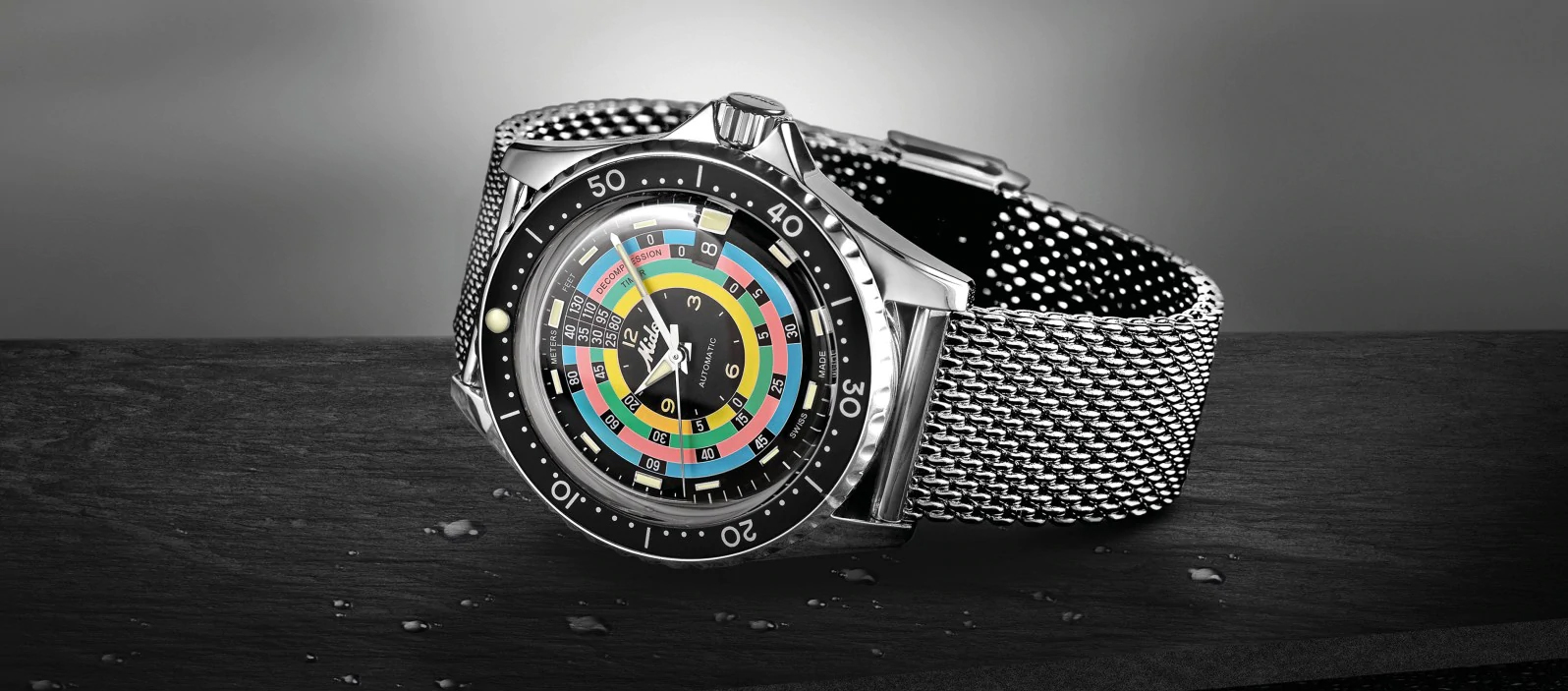 MIDO OCEAN STAR
DECOMPRESSION TIMER 1961 LIMITED EDITION 
Reedition of the historical Ocean Star dating back from 1961.
One of the most researched and desired model among the vintage fans.
Limited to 1961 pieces, this edition is available in a special box including two additional straps.
Only limited pieces available
The Ocean Star Decompression Timer 1961 reproduces the irresistible vintage charm of the Ocean Star Skin Diver Watch, a popular 1960s MIDO model that remains one of the brand's most sought-after original timepieces to date. Dedicated to the underwater world, this watch also served as a precious diving tool thanks to the multicoloured display of decompression stops on the dial. It uses the best of current technology to revive the striking codes of the time, namely a rotating bezel with countdown timer and a coloured table beneath a 'glassbox'-style sapphire crystal. This watch is equipped with the Caliber 80, which offers a power reserve of up to 80 hours. Each model comes with three easily interchangeable strap options.
CALIBER 80
The Caliber 80 from Mido is a next-generation automatic watch movement which offers up to 80 hours of power reserve, twice as much as a regular calibre. It is also available as a chronometer that has been officially certified by the COSC (Contrôle Officiel Suisse des Chronomètres) for its superior accuracy.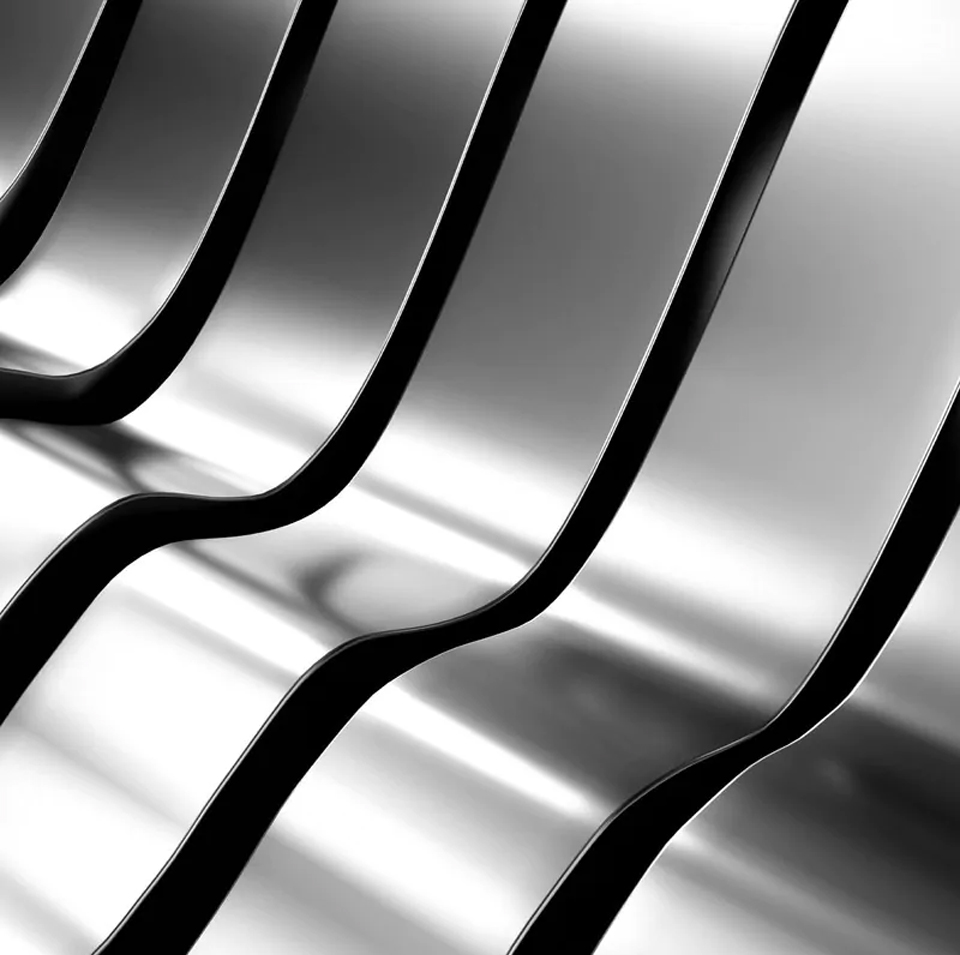 STAINLESS STEEL
Mido exclusively uses high-grade 316L stainless steel for its steel components to ensure complete and continued compatibility with the skin. This material resists corrosion, is unaffected by magnetic fields and demonstrates excellent durability, making Mido's stainless steel watches enduring creations that can stand the test of time and weather the elements. The metal's many technical properties are complemented by its sleek, extremely pleasing aesthetics, enabling a wide range of uses.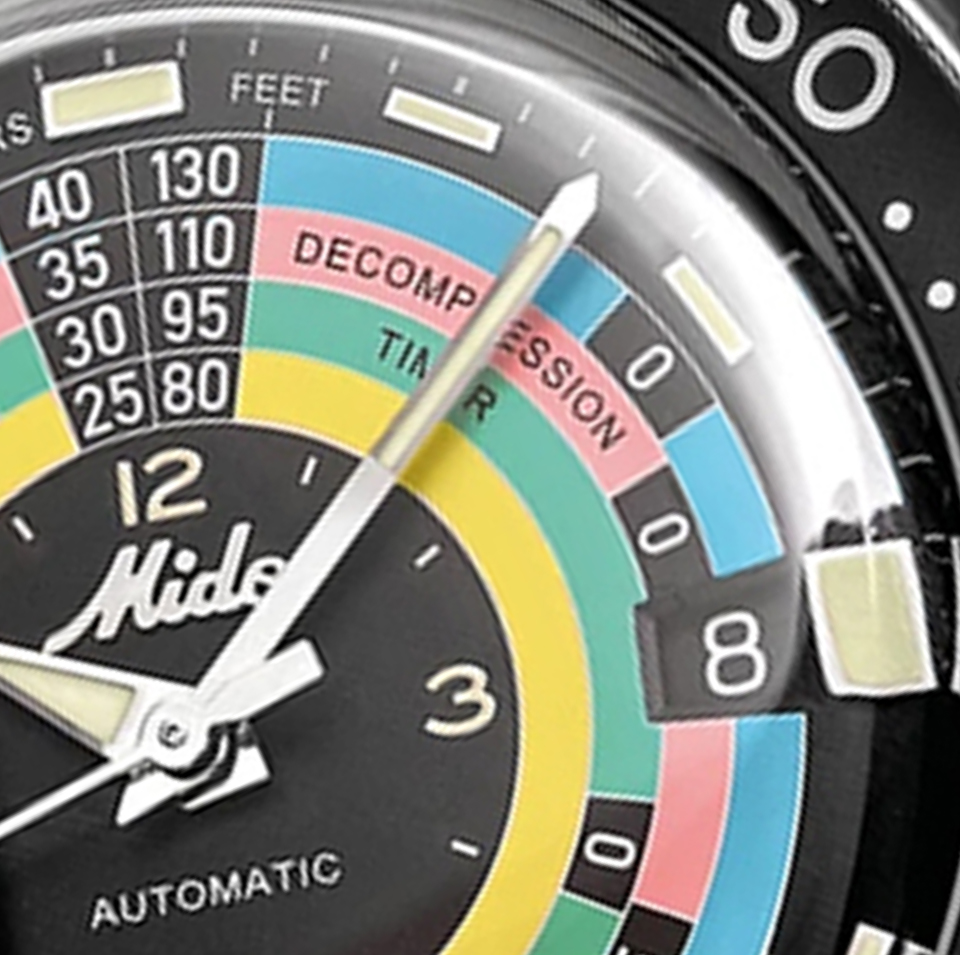 WATCH GLASS
Mido's sapphire crystal glass reveals its spectacular dials in sharp relief. They afford excellent readability in a range of conditions while perfectly complementing the watches' elegant design. Strong and shock-resistant, they are made to last, maintaining their exceptional transparency for many years.
WHAT IS A DECOMPRESSION STOP?
Due to the water pressure, gas bubbles may appear in the blood of divers. In order to evacuate these gases before leaving the water, and to avoid health problems, the diver must perform decompression stops. The stopping time will depend on the diving time and depth. On the original Mido Decompression Timer, and following the calculation methods valid in 1961, the stop takes place at 6 meters underwater.
The dial on your Ocean Star Decompression Timer 1961, in addition to the usual information (hour graduation and minute track), has a decompression time indicator for diving. This is represented by 4 concentric coloured rings, from the centre: Yellow, Green, Pink and Blue. Each ring corresponds to a dive depth.
A vertical scale at 2 o'clock is used to select the ring corresponding to the dive depth. The depths are indicated in metres 25/30/35/40, with the corresponding depth in feet 80/95/110/130.
The ring is selected as follows:
Yellow ring "25 meters/ 80 feet": must be used if the diver has reached a depth of 25 to 29 metres (80 to 94 feet)
Green ring "30 meters/ 95 feet": must be used if the diver has reached a depth of 30 to 34 metres (95 to 109 feet)
Pink ring "35 meters/ 110 feet": must be used if the diver has reached a depth of 35 to 39 metres (110 to 129 feet)
Blue ring "40 meters/ 130 feet": must be used if the diver has reached a depth of 40 to 44 metres (130 to 144 feet)
The various decompression times are indicated in a circle around each ring.
Learn more on the specifications