DREYFUSS & CO
SWISS MADE WATCHES OF DISTINCTION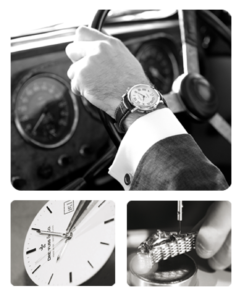 The legacy of Rene Dreyfuss, master horologist, is celebrated with Dreyfuss & Co, a collection of handmade Swiss timepieces.
Watch making is an art, which, like all art, cannot be hurried. Methodical and rigorous, the watch making process is measured and meticulous, for there is no margin for error.
The act of creation, by hand, ensures each watch is as individual as its creator and its owner. Steeped in tradition and inspired by historical events in the life of Rene Dreyfuss, each Dreyfuss & Co timepiece is meticulously handcrafted to ensure that every piece is as individual as the wearer. The Dreyfuss & Co in-house design team's aim has always been to push the limits of creativity, technology and craftsmanship, while remaining committed to the respect for tradition and inventiveness.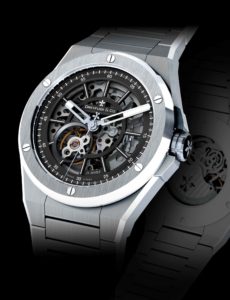 Most of our favourite Swiss watches here at Dreyfuss&Co feature an automatic movement.
What this means is that the watches power comes from the motion of your own wrist – the kinetic energy is stored in the watch for up to 36 hours, so…. Batteries aren't included with Dreyfuss&Co watches; that's because you don't need them!
In the caseback of a Dreyfuss&Co automatic watch, you'll see the intricate detail that powers the watch, all the gears and springs that spin into action with all the energy it is fed. It is a magnificent feat of engineering and manufacturing to make this technology possible, and amazing it fits on your wrist!
THE SEAFARER STANDARD – TOTALLY WATERPROOF, IMPERVIOUS TO WATER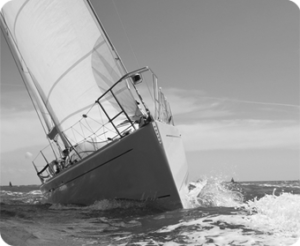 Setting new standards for the watch industry. Totally waterproof, the Seafarer stamp which you'll find on the entire Dreyfuss & Co range (except for 18k gold models), gives you the reassurance that you can enjoy all your water sports without fear of damaging your watch.
From swimming and diving, to snorkeling and recreational scuba diving in coastal waters, wind surfing and waterskiing, hot baths and showers, hot tubs, saunas and Jacuzzis, the Seafarer waterproof guarantee is the ultimate protection of your investment in a Dreyfuss & Co timepiece.
1890 – DREYFUSS MEN'S ROSE GOLD AUTOMATIC
A SPECIAL GENTLEMAN FROM OUR SPECTACULAR DREYFUSS & CO COLLECTION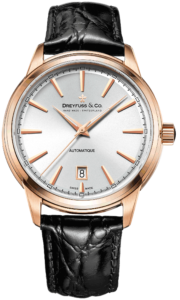 Simplicity is key and the true beauty of this family lies in the sumptuous curvature of the glass that offers hints of the past and compliments the classic dial design.
This Dreyfuss Rose gold plated watch features a Sellita Automatic movement and Sapphire glass. A silver white dial combines with a synthetic Crocodile leather strap. Water resistant to our Seafarer standard.
We say…
"Practical Elegance "
1974 – DREYFUSS LADIES' TWO TONE BRACELET
AN EYECATCHING PIECE FOR THE PERFECT LADY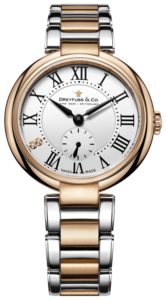 To mark the end of an era, this collection of understated watches has been carefully designed to represent René's ethos of Swiss craftsmanship and everlasting appeal.
This Dreyfuss two tone ladies watch features a superb Ronda quartz movement and flat sapphire glass in a classic 26mm case. The silver white dial has printed black roman numerals and two diamonds at 8 O'clock. Water resistant to our Seafarer standard.
We say…
"A Dreyfuss Classic"
Dreyfuss & Co create elegant and classic Swiss watches for discerning customers across the globe. Our current watch collection features unique watch styles, each and every one hand made and featuring our Seafarer totally waterproof specification.
Explore the wide range of stunning watches from Dreyfuss & Co collection at All Watches now!