Feminine Series
Galaxy Collection
A watch characterised by unique design and distinct style is the essential statement of glamour for contemporary women who champion intellectual substance and independence as the benchmarks of success. With this in mind, Ernest Borel presents the FEMININE SERIES, a women's timepiece collection featuring a stunning array of dazzling details for ladies to flaunt their myriad facets of femininity, from chic style of refined sophistication to business look of understated elegance.
The Galaxy Collection is a line that celebrates the divine poise and scintillating glamour of ladies. To capture the graceful charm of femininity in its fullest, Ernest Borel imbues the finely crafted models in the ethereal collection with romantic elements and glittering diamonds to evoke the mesmerising allure of ladies.
A sophisticated depiction of dazzling radiance
The indexes on each timepiece are exquisitely set with diamonds of dazzling radiance atop the iridescent mother-of-pearl dial to chime with the precision claw setting stones bezel.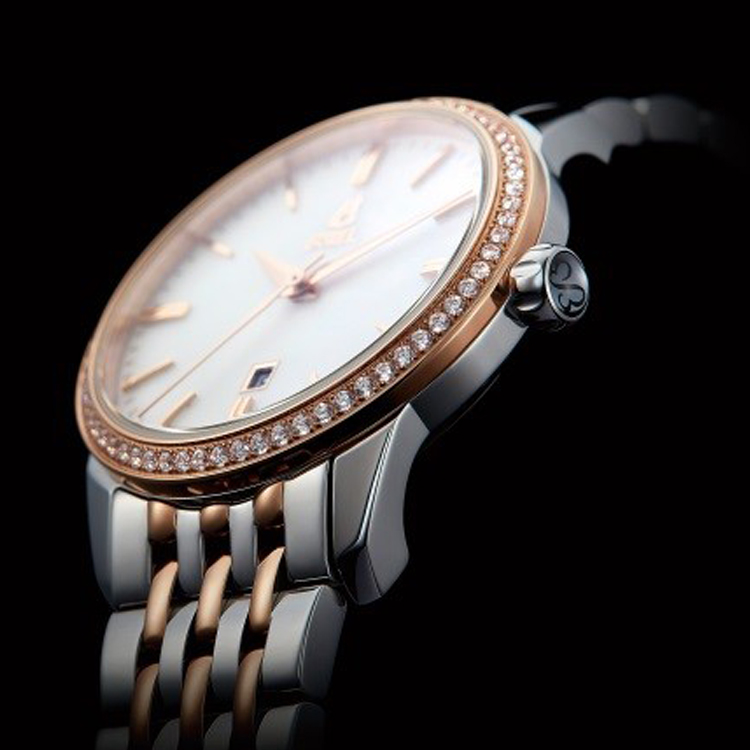 An exclusive crown for the Collection
Hailed as the emblem of the Galaxy Collection from past, present to the future, the one-of-a-kind crown translates the DNA of the collection into an impressively unique design crystal crown in generous size set with gorgeous crystal beads beautifully adorned with 'EB' logo in the form of butterfly pattern.
Dedicated cherry red colour story
Heralding the emerging watch trends dictated by renowned designers from Switzerland, Ernest Borel creates the N0113L0F-QR4L model, a striking masterpiece of the Collection unmistakably paired with a tailor-made leather strap in vivid cherry red.