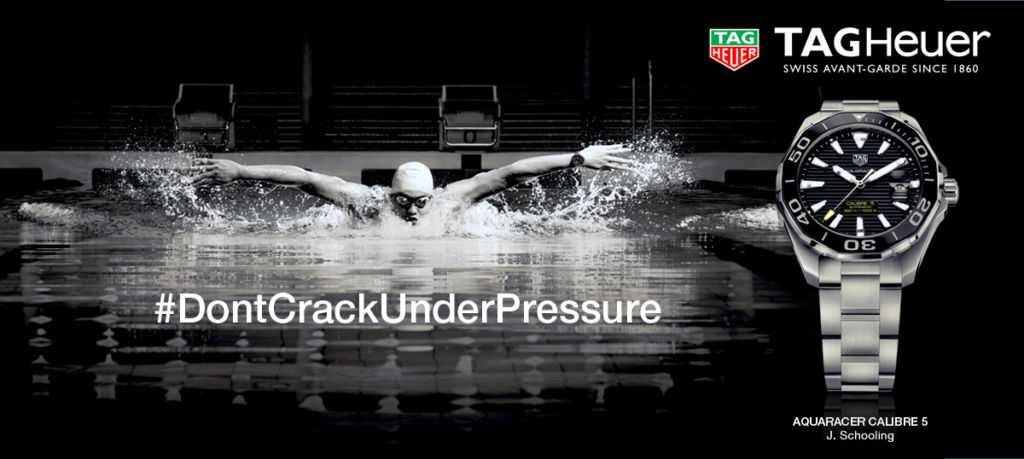 JOSEPH SCHOOLING IS TAG HEUER'S NEW FRIEND OF THE BRAND
Singapore's 1st Olympic Gold Medalist partners TAG Heuer
TAG Heuer has named Joseph Schooling, Singapore's first-ever Olympic gold medalist, as its newest Friend of the Brand. The swimmer will be fronting the TAG Heuer Aquaracer, which is the brand's ultimate sports watch inspired by the aquatic world. The Aquaracer watches are dynamic, sporty and extremely versatile.
The brand's involvement and commitment to the world of sports convinced Schooling that the brand shares the same philosophy as he does. There is also an emotional layer to his decision: The first Swiss watch that Schooling owned was a TAG Heuer timepiece, gifted to him from his parents. Colin and May Schooling are TAG Heuer collectors themselves, possessing an Aquagraph, the predecessor to today's Aquaracer, a vintage Heuer Monaco, amongst others. So, Schooling, the gifted swimmer from a young age, grew up in the company of top-notch TAG Heuer timepieces.
Born in 1995 to May and Colin Schooling in Singapore, Schooling won the hearts of Singaporeans and international swim fans by snagging the 100m butterfly gold medal at the 2016 Olympic Games in Rio de Janeiro. With a time of 50.39 seconds, he set a new Olympic record, beating multiple Olympic-medal winner Michael Phelps' record of 50.58 seconds set at the 2008 Olympic Games in Beijing.
TAG HEUER AQUARACER CALIBE 5
The ultimate sports watch inspired by the aquatic world.
Aquaracer. The quintessential sports watch inspired by the lure of the deep. Ever the pioneer, in 1892, Edouard Heuer filed the first patent for a watertight case in the history of watchmaking. It was an immediate success. Since that time, the Aquaracer (the collection created by TAG Heuer in 2003) has continued to evolve, developing into the perfect timepiece for all kinds of extreme conditions, not just diving and other seafaring activities.
Robust and water-resistant to 300 metres, this watch — featuring a uni-directional rotary bezel, with its twelve sides and six studs, screw-down crown, large luminous indications on the indexes and hands for improved visibility when diving and screw-down case back engraved with a diver's helmet — is immediately recognisable.
The high quality of the Aquaracer's finishes and functions yet again make it one of the best value timepieces on the market. Discover TAG Heuer Aquaracer timepieces through their distinctive features and all the possibilities they offer.