CHOOSING THE RIGHT WATCH
FOR THE WOMAN IN YOUR LIFE
Choosing a perfect gift for women is always a difficult task. What's more, for the mom whose selfless love helped you grow or for the mother of your kids? How would you choose a perfect gift to show her your appreciation on Mother's Day?
Accessories are what contributes to every woman's look and unique style. While not all women likes to wear earrings, necklaces, or bracelets; they still usually like to strap a watch on their wrist, at least for timekeeping. A nice watch would be a good gift where your mom or wife can cherish for years to come and remember your appreciation every time she looks at the watch.
Here's some useful tips for choosing the right watch for the woman in your life.
TIP 1. CHOOSE THE RIGHT MOVEMENT TYPE
Generally, quartz movement can be more practical, accurate and requires less maintenance. If she prefers an easy-to-care type of watch, a quartz movement would be an ideal choice for her.
Automatic/ mechanical movement on the other hand, requires a little time commitment for regular maintenance and winding. If you think she is going to wear it daily, movement of wrist will power the watch to keep it running. If she is a fan of Swiss craftsmanship and you want something that is durable and can last her for a long time, an automatic or manual watch would be an ideal choice for her.
TIP 2. CHOOSE THE RIGHT CASE SIZE
For women, a standard watch case measures 26-29mm and petite watches are typically 20-24mm in diameter. Generally speaking, if she has a smaller wrist, you will want a smaller watch for her. But if she is a trendy and sporty mom, she might like to wear watches in larger sizes.
A quick peep at her current collection and you will know of a specific size preference and style of hers.
TIP 3. CHOOSE THE RIGHT MATERIAL
Getting the right material, particularly for the watch strap is especially essential. Even though you know she will surely treasure the gift you buy despite a design she might not like; you still do want her to feel comfortable while wearing it.
Leather strap and stainless steel bracelet options are the most common choices. Add a little luxury and choose a two-tone gold or rose gold bracelet to match with her jewelleries. Consider a ceramic watch for a stand-out style. Ceramic is scratch proof hence will not show signs of wearing, even after years. It is also lightweight and hypoallergenic, a good choice if she has a sensitive skin.
We have picked out 3 of our favourite pieces in different styles and materials as a helpful guide for you to choose the perfect choice of watch that will best suit your mom/ wife.
ERNEST BOREL JULES BOREL COLLECTION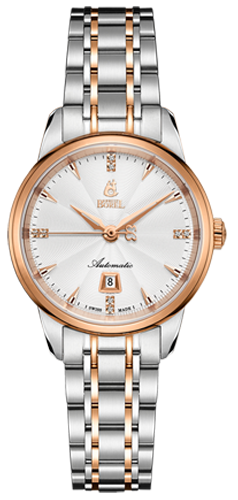 The Jules Borel Collection is the embodiment of why the brand has been so well-received for over hundred years – the painstaking craftsmanship is the timeless legacy of the brand founder's everlasting watchmaking philosophy.
The rose gold plating case with a mellow sheen is equipped with a classic layout of 3 big hands. The end of second hand is decorated with the Ernest Borel's iconic flower-shaped butterfly trademark while the sophisticatedly crafted geometric hollow long triangle indexes create several reflective surfaces, showing a rich grading shade.
The diamonds inlaid at 3H, 6H and 9H in reverted triangle layout are matched with inlaid lilac-shaped flowers, creating a unique dial decoration. From the transparent watch back, one may catch a glimpse of the dancing mechanics. Without any doubt, the high end craftsmanship of the collection is the best tribute to the brand's pioneering achievements
RADO TRUE DIAMONDS AUTOMATIC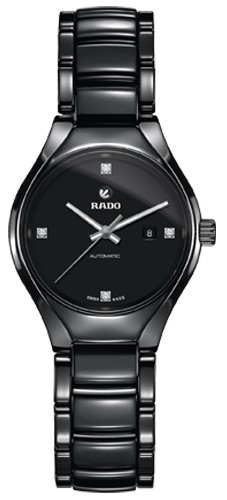 More irresistible than ever, the Rado True embodies both sport and class with a shiny black high-tech ceramic eye-catching design.
The 30mm case with monobloc construction is sleek in character and design and the 4 diamond indexes scintillate on this new model; gorgeous on any wrist. The Rado True is powered with the Swiss-made automatic movement with up to 80 hours power reserve. The final touches of the curved sapphire crystal and 5 bar/ 50 meter water resistance rating complete the design that can be worn day into night.
High-tech ceramic timepieces are objects of art and craftsmanship: Their smooth stylish surfaces can be metallic or matte, crafted in an ever-expanding array of colours. They are also a gentle approach to glamour: Lightweight and hypoallergenic, high-tech ceramic watches are incredibly comfortable and can be worn by anyone with sensitive skin.
TAG HEUER CARRERA LADY
The TAG Heuer Carrera Lady is classic yet sporty, complete with faceted horns and a large dial with fine flange for maximum legibility. A chic and feminine sporty look, perfect for today's active woman.
Simple, sophisticated style from the racetrack to your wrist. The Carrera Calibre 5 Day-Date automatic watch is effortlessly elegant. This 39mm Carrera Lady with a beautiful deep blue dial and blue calfskin strap which is padded with tone-on-tone stitching for a "haute couture" look, picks up on the same codes: the elegant case with faceted lugs and the clear, highly legible dial.
For a feminine touch, and to add an edge to the look, the appliques and hands are rose gold-plated. A version with a diamond-studded bezel is also available: for that essential touch of glamour!