OVERSIZED WATCHES
A TREND HERE TO STAY
Like many appealing accessories adopted by the aficionados, oversized watches have seen increase in popularity over the years. Oversized watches may not be your everyday choice, but there's always a time and place for you to flash a big watch on your wrist.
Many of you may ask, so how "big" is considered "oversized"? Depending on your wrist size, a "big" watch you are wearing may not be considered as oversized if it actually fits you perfectly. In fact, there is no specific size at which a watch is considered "big", "massive" or "oversized." In the watch industry, the term "oversized" is often used to indicate that the watch is larger than "average".
Generally, a watch that is over 42 – 44mm in diameter, can be considered as oversized in comparison to traditional sizes of 40mm. Ladies generally have smaller wrists hence anything over 40mm is considered oversized for them.
Here are 3 tips on how to choose your oversized watch.
If you just want to have one oversized watch in your collection, GO CLASSIC!
Choose one that will stand the test of time and not something that is too loud or faddish. Chances are, you will find yourself putting it on for most occasions and eventually fall in love with an oversized watch. Go for classic designs that exude modern appeal and sophistication.
Created with Swiss technology, quality and style, the Tissot Chrono XL is one of the largest chronographs in the Tissot collection, characterised by its big case that has a diameter of 45mm. Having a big case also means a big dial, which makes time easily readable. The contemporary Arabic numerals at 12, 3, 6 and 9 o'clock and chronograph function further add to its urban style.
The Tissot Chrono XL collection offers 6 appealing styles to choose from. For the vintage retro lovers, decide between the 3 leather strap versions in different shades of brown with stylish stitches, paired with either a dark green, blue or black dial. Extra character is added with grey or black PVD coating on the case of certain watches. If leather strap is not for you, there are also 2 matte stainless steel bracelet and case versions for a more sophisticated feel. Whichever one you choose, the Tissot Chrono XL will definitely make a statement.
If you are in for some boldness, innovation and challenge, GO EXTREME!
Choose one that show off the artistic and extreme values of the watch – Extreme power, extreme performance, extreme reliability, extreme functionality, yet extreme comfort. Once you go big, you will want to go bigger. Go for a XXL.
The superlative-charged Breitling Avenger Hurricane self-winding chronograph flaunts a standout case size of 50mm diameter. Although huge, the Breitling Avenger Hurricane weighs 3.3 times lighter than titanium and 5.8 times lighter than steel, but significantly harder. All thanks to the innovative use of Breitlight®, a world-first achievement on a watch case, making it ultra-sturdy and ultra-light.
This exclusive high-tech material also boasts a number of qualities: exceptional resistance to scratches, traction and corrosion, anti-magnetic, thermal stability, anti-allergic properties – as well as a touch that is warmer than metal and a slightly mottled effect accentuating the originality of the design. Equipped with a Manufacture Breitling Caliber B12 powering a military-type 24-hour display, the Breitling Avenger Hurricane boasts its superior precision in a sturdy construction equipped with lateral protective reinforcements and an all-black look enhanced by yellow accents and aviation-inspired stencil-type numerals. Further highlighting the details is an exclusive strap combining yellow rubber core and sides with a high-resistance black Military textile fiber exterior.
For women rockin' confidence and not afraid to stand out, GO DIVA!
Who says you need to replace your feminine timepieces to a chunky sporty oversized 'boyfriend watch'? A watch can be oversized, but still have a feminine touch with embellishments, colors or designs. Go for a glamourous skeletonised beauty that will captivate even the male technology enthusiasts.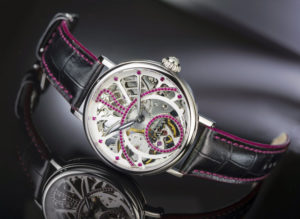 Charm everyone with Davosa's Grande Diva's gracefully playful femininity – an interplay of delicate wheels and spirals, through subtly applied gemstones and a design idiom that recalls the grand days of art nouveau.
With an impressive diameter of 42mm, Davosa Grande Diva simply oozes self-confidence with the fine details on it's skeletonised dial – the curved twelve set with gemstones, offset by the second subdial at six o'clock, whose bezel is also enhanced by sparkling gemstones. One level down, the skeletonised mechanic movement proves particularly eye-catching thanks to its blued screws and golden cogs. The sophisticatedly slimline Swiss quality manual winding movement can also be enjoyed from two sides via the transparent crystal back. Calfskin leather straps with crocodile pattern whose stitching and edge finish is matching the colour of the precious stones ensure that this mysterious beauty not only delivers in a glamorously feminine manner, but is also extremely comfortable to wear.