HERE COMES SPRING 2017!
With the beginning of spring, it's time to welcome the most colourful season of the year. This year's trend color according to Pantone's Spring 2017 Fashion Color Report, is likely to see all colors of nature, bringing a mixture of vitality, relaxation and great outdoors. Here it is our three favourite colors recommended for this spring 2017!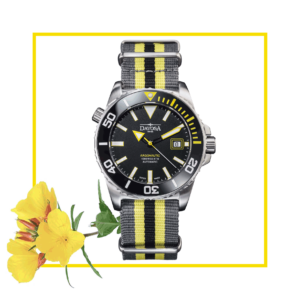 THE ENERGETIC PRIMROSE YELLOW
Davosa Argonautic Automatic
This invigorating shade of yellow is sure to light up your Spring with much warmness and joyfulness. Strap on this Davosa Argonautic and enjoy your dive into the beautiful deep blue sea. The most important criteria for divers' watches include water resistance of at least 200 metres, a unidirectional rotating bezel for safe dive time regulation and excellent readability in the dark. Because ultimately, your life may depend on the functional capabilities of your wristwatch. The Davosa Argonautic offers a whole lot more: water resistance of up to 300 metres (30 bar/1,000ft), a helium escape valve for professional use and a robust case with a scratch-resistant ceramic bezel.
THE NEUTRAL MUTED PINK
Ernest Borel Danaus Collection
For the ladies, this subtle shade of pink is sure to bring out your sweet innocence and femininity. Strap on this Ernest Borel Danaus and shine with elegance and femininity. Inspired by the artistic pursuit of the Impressionist maestro and Ernest Borel's dedication to the culture of romance, the Danaus Collection takes a Nymphaea helvola (from Claude Monet's masterpiece Water Lilies) in full bloom to decorate the wrist. For the new model in the Danaus Collection, the elegant water lily (Nymphaea helvola) quietly blooms on the surface of mother of pearl, where the unique colourful glow shining with the flower creates a dreamy and elegant visual art with great admiration.
THE RELAXING NIAGARA BLUE
Davosa Irisea Collection
If the classic navy blue is not your cup of tea throughout the sunny spring days, this relaxing and soft blue shade is definitely for you. Strap on this Davosa Irisea watch and relax your mind. The Irisea watches are ablaze with colour. Thanks to meticulously finished zirconia stones – four serving as hour markers on the dial and six more as decoration on the bezel – and a mother of pearl dial in unique blue, the watches sparkle in a myriad of colours, depending on how the light strikes them. Versatile enough to be matched with almost every shade, this blue Irisea is perfect for the night as well. Thanks to its leaf-shaped hands coated with powerful Super-LumiNova, your wrist never goes dark at night. Complementing the four decorative stones, eight hand-applied metal indices make up the remaining hour markers.